The Basics of Flood Restoration
Jun 9
There are several steps to flood restoration. The first step is cleaning the area affected by flood water. Be sure to wear proper protective clothing and equipment, and always have cleaning supplies nearby. The traditional way of removing flood water involves using buckets, mops, old towels, and other items that collect water. Then, you should use a vacuum cleaner to thoroughly dry the area. Finally, call in a flood restoration company to restore your property.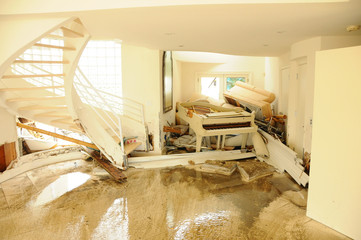 Flood damage restoration will take time and requires a lot of work. Flood cleanup is essential to avoid any further damage to your property. Consider renting tools that will make the task easier, such as a sump pump. Also, be sure to shut off any electrical devices to avoid the spread of mold. Flood damage restoration services will help you get your property back to normal as quickly as possible. Flood restoration professionals can also help you install new drainage systems and waterproof membranes to prevent further flooding.
Depending on the level of water damage, flood restoration companies can perform simple repairs such as carpet cleaning and drywall repairs. In extreme cases, however, it may be necessary to reconstruct a room to prevent further damage. While you may be able to clean up small amounts of water yourself, a flooded basement might require the use of a wet/dry shop vacuum and a pump. The work is more extensive if a burst pipe caused the flood.
Once you've made the decision to call a water damage restoration company, you should talk with the representatives of the companies. Ask about the equipment they use, whether the staff is certified, and if they offer a 24-hour emergency response line. Ask about the satisfaction of past clients with a prospective restoration company. You can also look online for reviews of various restoration companies. This way, you can determine whether you will work well with them. The more you know, the better.
The cost of flood damage restoration varies greatly. HomeAdvisor estimates that the average cost of restoration is around $4000-$8000. The extent of flood damage determines how much water damage restoration costs. For example, if a single room has flooded, you may need new flooring and baseboards. That would mean an initial cost of around $2000 to $4000. Of course, this also depends on the building materials used in your home.
If the flood is severe, a professional flood damage restoration company should be called. Flood water is dangerous, as it interacts with electricity, and can cause hidden damage. Proper decontamination, drying, and dehumidification will help prevent further damage. Flood insurance may also be beneficial, especially if you live in a flood-prone area. However, you should never attempt to clean up the flood water on your own. It is better to hire a professional to do this job.
A professional uses two flood houses for remediation training. These houses have been purposefully flooded more than 50 times. During this training, students learn to deal with flood damage as it occurs in real-life scenarios. The restoration professionals in the training center also gain valuable insight into mold remediation and content restoration. Whether you are trying to clean up a flood, a professional has the tools to help you get the job done correctly. If you are considering getting training for your business, consider joining restoration experts today.
The goal of water damage mitigation is to prevent further damage and ensure structural stability. Water restoration services, on the other hand, aim to get your property back to pre-loss conditions. Depending on the extent of the water damage, mitigation services can range from basic sweeping and vacuuming to extensive reconstruction projects. Once you've done the water mitigation process, it's time to begin the water restoration process. So, if your home has suffered water damage, contact a professional as soon as possible to protect your possessions.
After the water removal process is complete, water restoration companies use industrial-grade dehumidifiers and air movers to dry the affected property. This is critical because even if your home still looks dry, it's still moist to the touch. Without proper dehumidification, these materials may continue to suffer from further damage. Your water restoration company will make sure that these materials don't go further spoiled by moisture. So, make sure you hire a water restoration company if your home has recently suffered from flooding.
Louisville Carpet Cleaning & Flood Restoration
3915 Benje Way, Louisville, KY 40241
5023795890
water damage restoration Louisville
mold removal Louisville KY
mold remediation Louisville KY
https://www.cityfos.com/company/Louisville-Carpet-Cleaning-in-Louisville-KY-22800036.htm 
https://www.whodoyou.com/biz/2061436/louisville-carpet-cleaning-flood-restoration-ky-us 
http://www.place123.net/place/louisville-carpet-cleaning-flood-restoration-louisville-usa 
https://service.opendi.us/verify?sid=471577&key=622177b6e5b6b 
https://www.a-zbusinessfinder.com/business-directory/Louisville-Carpet-Cleaning-Flood-Restoration-Louisville-KY-USA-Kentucky-USA/33537220/ 
https://www.fyple.com/company/louisville-carpet-cleaning-and-flood-restoration-i7t8d6q/ 
https://globalcatalog.com/louisvillecarpetcleaningfloodrestoration2.us 
https://teleadreson.com/louisville-carpet-cleaning-flood-restoration,3915-benje-way,-louisville,-ky-40241-x4ONAMeDjQA.html 
https://bizidex.com/en/louisville-carpet-cleaning-flood-restoration-carpet-floor-326822 
https://find-open.com/louisville-jefferson-ky/louisville-carpet-cleaning-flood-restoration-4142620 
https://www.zipleaf.us/Companies/Louisville-Carpet-Cleaning-Flood-Restoration_29310 
https://akama.com/company/Louisville_Carpet_Cleaning_&_Flood_Restoration_afdf83822749.html 
http://www.garagecommerce.com/businesses/11038849/louisville-carpet-cleaning-flood-restoration/home-improvements/ky/louisville/40241 
https://www.placelookup.net/louisville-carpet-cleaning-flood-restoration_4007306 
https://citypages.pro/local-business/united-states/kentucky/louisville/40241/louisville-carpet-cleaning-flood-restoration 
https://unltd.directory/advert/louisville-carpet-cleaning-flood-restoration/ 
https://www.chamberofcommerce.com/united-states/kentucky/louisville/flood-damage-restoration-and-floodproofing/2012907031-louisville-carpet-cleaning-flood-restoration 
https://www.360cuvee.com/?post_type=ait-item&p=49832&preview=true 
https://www.golocal247.com/user/dashboard/business/1268036/show 
https://intengine.com/directory/profile/kentucky/louisville/louisville-carpet-cleaning-amp-flood-restoration/88583 
https://www.constructions.cc/state-kentucky-ky 
https://us.yazoomer.com/company/louisville-carpet/ 
https://www.cybo.com/US-biz/louisville-carpet-cleaning-flood_40